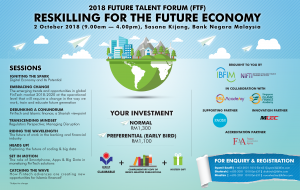 2018 Future Talent Forum (FTF), 2 October 2018, Sasana Kijang, BNM.
September 5, 2018

Categories: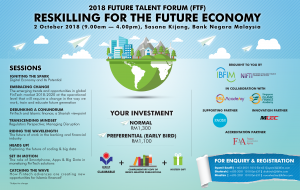 Pushing Beyond a #Buzzword
2018 Future Talent Forum (FTF) is a platform to discuss the future business landscape by identifying the potential solutions and answers to the most burning questions about digital economy and the required skills and strategies to tackle the disruptions.
This event is ideal for those who are looking to step up their game and gain insight into the current economic trends.
Let's talk about the future. Join us to find out what the future holds for your industry.
Sign-up for this event today! Click 2018 Future Talent Forum to register and download forum's brochure.