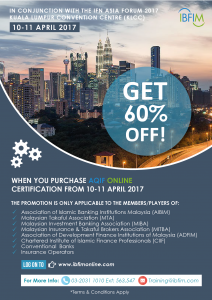 IFN Asia Forum 2017, 10 – 11 April 2017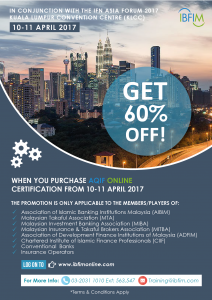 In conjunction with the IFN Asia Forum 2017 happening this 10 – 11 April 2017, IBFIM is giving away discount up to 60% for AQIF online/e-learning certification program fee. This promotion is valid from 7th to 11th April 2017 and only applicable to the members/players of:
Association of Islamic Banking Institutions Malaysia (AIBIM)
Malaysian Takaful Association (MTA)
Malaysian Investment Banking Association (MIBA)
Malaysian Insurance & Takaful Brokers Association (MITBA)
Association of Development Finance Institutions of Malaysia (ADFIM)
Chartered Institute of Islamic Finance Professionals (CIIF)
Conventional Banks (Malaysia Only)
Insurance Operators (Malaysia Only)
Terms & conditions apply. We will be opening our booth (No.27) during the IFN Asia Forum 2017 event. For enquiries, please drop by to our booth this 10 – 11 April 2017 (9 am – 5 pm) or email us at training@ibfim.com. Follow us on Facebook: www.facebook.com/ibfim for more updates.